See us on



Gnarly Artly designs are funny, funky and true. They are all original and hand screened in-house on heavyweight 100% cotton garments, using permanent screenprinting inks.
Some of them will crack you up!
Use your credit card through PayPal (no registration necessary) or call 866.539.5920 with a Visa, MC, AMEX or Discover.
Stop by and visit the booth at a Street Festival.
Design and Screenprinting services for your Company, Family Reunion or Charity Event. Embroidery, Business Cards, Banners, Flags & Posters, too!

ProFeed Spring windows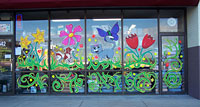 Art for some Blues Bands:
Chris Adams Band and Paul Pfau





Limited edition prints of "The Greatest Snow Day Ever!" poster are available! Contact the Frederick Office of Special Events for details on how to get one.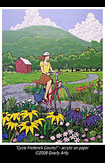 Two Illustrations that were in the Frederick Arts Council Member Show. Opening is Nov. 6 During First Saturday in Frederick.



Poster and Magazine Art



Murals


Acrylics and watercolors




Two pieces in the Blue Elephant UnFiltered Show February, 2010.


"Catoctin Evening Mist"- Landscape hanging in Annapolis, MD in the House Office Building- 3rd Floor- in the Western Maryland Corridor til April 9, 2010.

Gnarly in the News
Thurmont Business Expo 2011- Gazette Newspaper
Elegant Living Magazine- Winter 2010


The little town Gnarly lives in...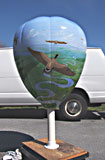 Nice little fiberglass or metal statues grace the streets of cities all over. Gnarly has 7 of 'em so far. Just finished!: "I Can See For Miles & Miles" for the Take Flight 2 project at the Barbara Ingram School of Arts in Hagerstown, MD. On display April 15- June 15, 2011, closing with a balloon festival June 17-18
Monthly Cartoon for The Catoctin Banner, a local paper: